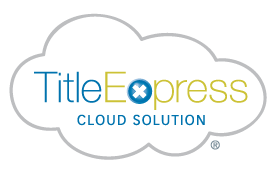 SMS TitleExpress is a fully integrated Windows application with a proven track record for outstanding performance and reliability. The purpose of the following information is to assure optimal, trouble-free program operation and to minimize the user's technical support needs. A stable environment is essential for all systems. If your system does not meet these requirements, TitleExpress and related SMS solutions may not operate correctly.
Minimum system requirements for the TitleExpress Cloud solution:


Printers must be supported by Microsoft in the terminal server environment. Contact SMS Customer Support for a list of supported printers.


A synchronous broadband connection with a bandwidth of at least 50 Kbps per user.


Local workstations must have an operating system that provides access to an Internet and RDP connection, such as Microsoft Windows, Linux, UNIX, and Macintosh operating systems. For hardware requirements other than memory (RAM), refer to the operating system manufacturer.

Note: Microsoft Windows workstations must have Windows 8, 7, or Vista operating systems with the latest service packs installed; RDP 7.0 or later; and Microsoft.NET Framework 3.5 with Service Pack 1.


Local workstations must have at least 1 GB of RAM.